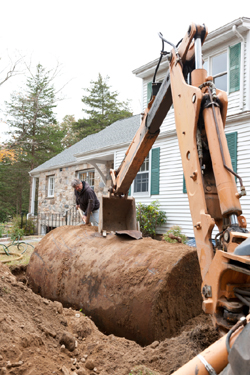 Don't let this happen to you, after the purchase of the property the buyer discovered an abandon in ground oil tank .And not only did he have to pay for the removal of the tank but also had to pay for the environmental cleanup.
INFORMATION NOTE – Most insurance company's do not cover environmental conditions caused by an in ground oil tank. The price range of a clean up ranges from ten thousand to over one hundred Thousand dollars.

Suggested method of buying an older house that may have an abandon oil tank is below.
STEP ONE - Ask the sellers if the fuel system was ever oil and do they have any knowledge of an in-ground oil tank. If they say yes it was removed, you'll want to have a attorney to receive a copy of the state papers that the tank was properly decommissioned. If the sellers have no knowledge of an in-ground oil tank, we suggest you call the Building and Zoning Department in the municipal building where the property is located. Ask if they have any record of the house ever being on oil fuel. If there is no record of the type of fuel used, then ask the zoning department if a permit was ever issued for an in-ground oil tank removal. If the municipality has no records of an in-ground oil tank or the type of original fuel. We suggest going to step two.
STEP TWO - Have your home inspection and termite inspection completed first, make sure you want to buy the house before you spend any money for an in-ground oil tank search. In other words, don't conduct a home inspection, termite inspection and an in-ground oil tank search at once. The reason we suggest to do the home inspection first is because many times the home Inspector may see a filler pipe or a vent pipe indicating that there is an in-ground abandon oil tank. When filler and vent pipes are discovered, one can be sure there is or was an in-ground oil tank right below the pipes. Even though an in-ground oil tank search is not included in a home inspection, our inspectors, if they see sign of an in-ground oil tank, they will take photos and put it in the report as a courtesy. Now your attorney can negotiate with the seller's to have the tank removed as per the state requirements and the seller will also be asked to supply a environmental certificate that there is no ground oil contamination from an abandon tank.

See our Frequently Asked Questions about Abandoned In-Ground Oil Tank Removal
Counties Served in New Jersey
Middlesex County, Union County, Somerset County, Essex County, Hunterdon County, Hudson County, Bergen County, Passaic County, Mercer County, Ocean County, Monmouth County, and Morris County.
G WARREN HOME INSPECTION COVERAGE AREAS
Middlesex County - All towns in Middlesex County
Union County - All towns in Union County
Somerset County - All towns in Somerset County
Essex County - All towns in Essex County
Hunterdon County - Most towns in Hunterdon County
Monmouth County - Most towns in Monmouth County
Morris County - Most towns in Morris County
Bergen County - Most towns in Bergen County